Thu, 05/09/2019 - 13:52
Infographics on fish stocks get a thorough update for 2019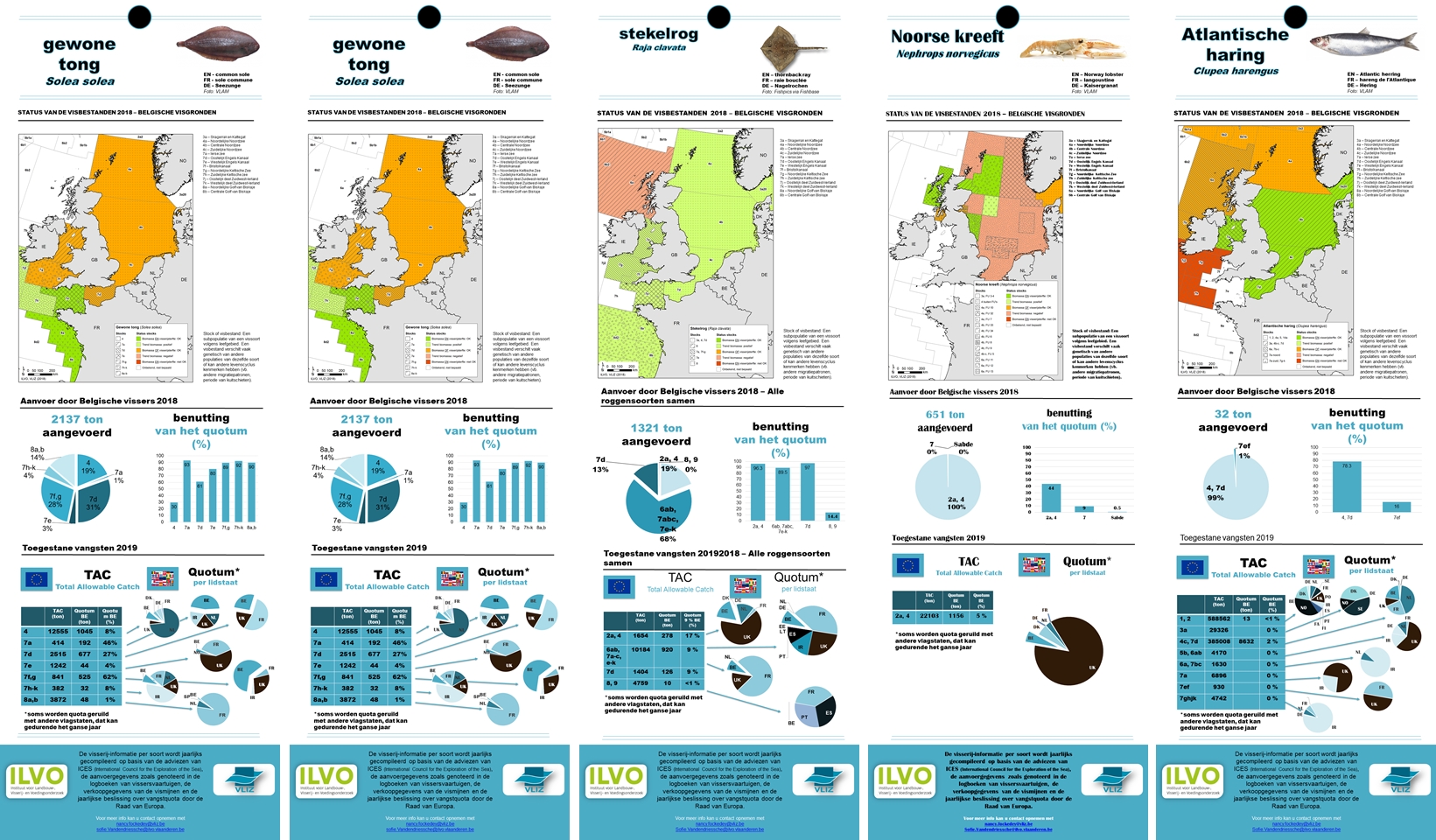 In order to gain insight into the impact of Belgian fishery on the European fish stocks, the Research Institute for Agriculture, Fisheries and Food (ILVO) and Flanders Marine Institute (VLIZ) have been working together to publish yearly series of infographics. These provide clear and concise information on the state of the fish stocks, the size of the haul by Belgian fishing vessels, and the allotted quota for the respective year. 
The very first series of 12 infographics was published in the beginning of September, and was based on the haul of 2017 and the appointed quota for 2018. As these numbers were recently updated by Europe, for 2018 and 2019 respectively, so did the infographics receive an overhaul. They are now based on the haul of 2018 and the appointed quota for 2019. Yet, not only did the already existing infographics get an update, the series was also expanded with 46 additional species, bringing the total amount of infographics to 58. Species that were added are, amongst others, megrim, Norwegian lobster, and several species of rays. 
The infographics will be updated continually each time new datasets, scientific recommendations and quota are revealed. Normally, the next overhaul is scheduled for November 2019. The infographics are free for download using the VLIZ-website.
The Coastal Portal has already made use of these infographics in a published case study that discusses the state of the Atlantic cod in the Belgian part of the North Sea. This case study is still available on the website through this link. Additional information on Belgian fishery in the North Sea area can be found within the theme 'Fisheries and aquaculture', while info and data on the several species of fish present in the Belgian part of the North Sea can be accessed through the 'Fish' themepage.
For more information on the infographics or the state of the fish stocks:  
Hans Polet, ILVO-Visserij: +32-(0)494-28 69 71 | hans.polet@ilvo.vlaanderen.be // Sofie Vandendriessche, ILVO communicatie: +32-(0)497-60 41 43 |  sofie.vandendriessche@ilvo.vlaanderen.be